Website & Mobile Development
At airMY we want to streamline the entire website or application development process making it as easy as possible for our clients to create their dream project. There are many difficult and confusing steps along the way and the airMy team will walk with you through the entire process.
airMY Services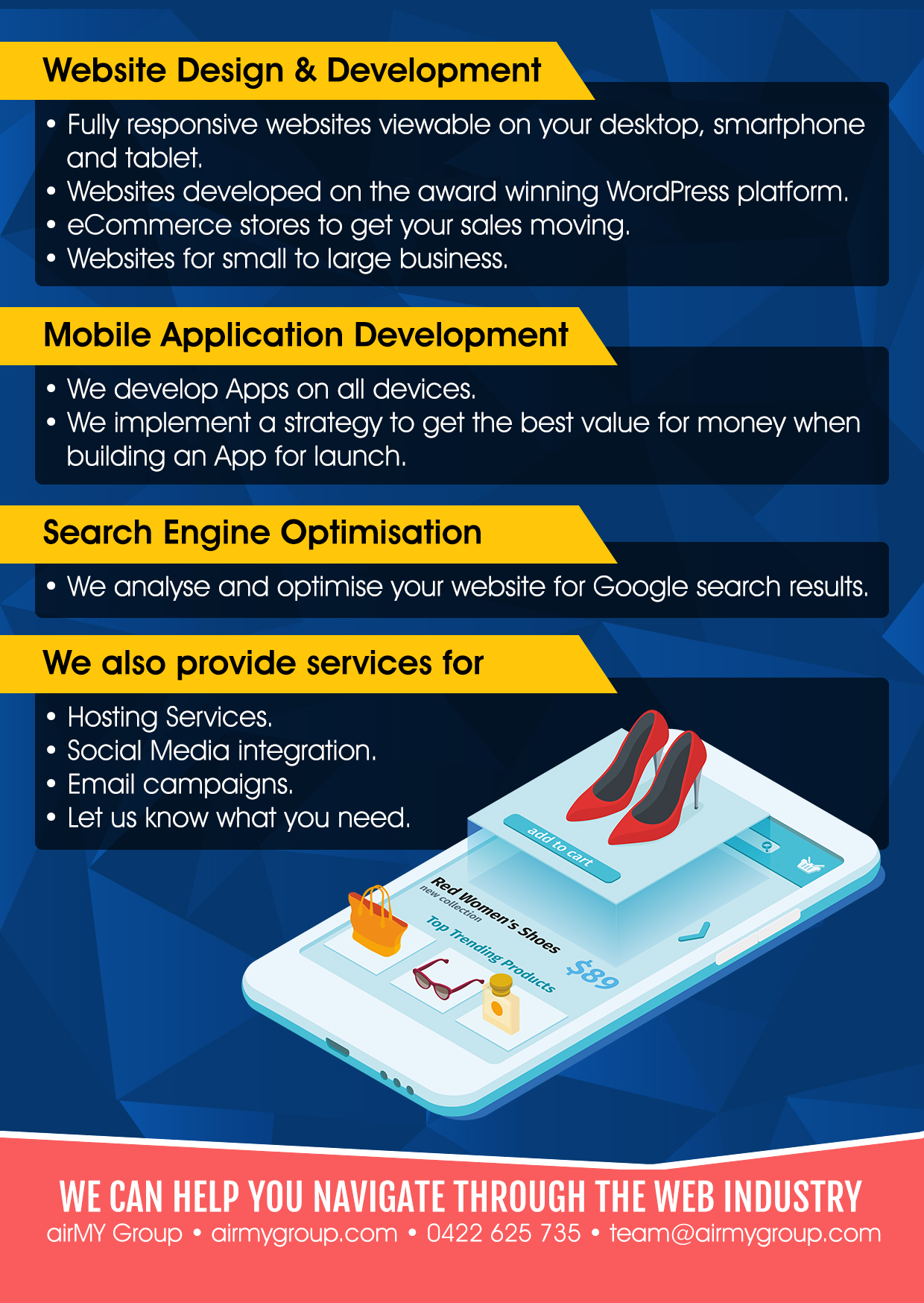 Website & Mobile Development
Quality website design is the key to any successful website. Our website development team works with the major aspects that make a great website. Design for customers to enjoy your website, search engine optimization for Google to favour your website in search results and mobile friendly websites that work on all devices.
SEARCH ENGINE OPTIMIZATION
Our SEO techniques utilise all the top optimization strategies to boost your website to page 1. We work closely with you and create a dynamic approach to Google's algorithm to keep you consistently coming up in top google search results. Make sure your customers can find you and not your competition.
VIDEO PRODUCTION
All new projects need to have a video to complement the finished product. Create buzz around your final product and help your chances of going viral. Videos are currently one of the most shared media on the web.
MOBILE APP DEVELOPMENT
With the huge amount of smartphone and tablets currently and coming into the market place each year people are looking towards apps as the future. The airMY team will work through your complete project to create a finished product that generates a return on investment. More companies are looking at providing their loyal customers with apps.
E-COMMERCE Platforms
Turn your visitors into revenue by selling your products on one of our reliable and secure content management systems (CMS).  You can fully control your website and easily update products, implement sales, automate your pipeline and easily integrate into modern account systems.
PROJECT CONSULTATION
The airMY team offer consulting on all types of projects. We can help plan out your project from start to finish. Strategic planning reduces development costs and prioritizes needed features.
Wesbite & Mobile development
Have a look at what we think about Website & Mobile development.
Smartphone Application Development
We are excited about the app industry and where it is heading.
Search Engine Optimisation
SEO is more important now that ever, keep ahead of the competition with a SEO plan